Exclusive Group Events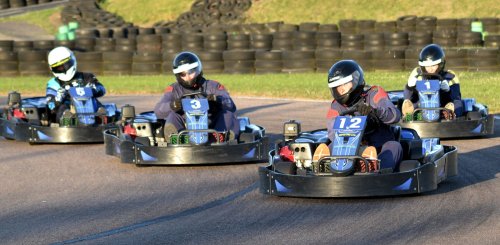 For grids of 6 to 12 drivers (min age 18 yrs), you may have exclusive use of the circuit by booking one of our event options below. Whether you're organising a stag/hen party, a race for a circle of friends or a company outing, we have an event to suit you.
Your Exclusive Group Event Includes:
Exclusive use of our 1100m circuit and facilities. Click here to see our circuit layout
Choice of SuperPro 270 karts or Pro 200 karts Kart Sizing Charts
Provision of necessary safety wear and full safety briefing
Practice and racing
Presentation of 1st - 3rd trophies/awards
Enhanced post race analysis sheets and Alpha System live timing
Minimum age 18 years old
Detailed below are options and prices for Groups of 6 - 12 drivers.
For larger groups please contact the circuit office on 01795 410707 or email info@bayfordmeadows.co.uk, where we can discuss karting and catering options.
With all events, the whole group must agree to choose one kart type; either the Pro 200 karts OR the SuperPro 270 karts.
Option 1
30 minute adult hire practice
Non exclusive event
approximate duration of event 1 hour
Price: £60pp
Online booking available, but please note unless all 12 spaces are booked, others may join you.
---
Option 2
15 minute practice
15 minute Race
approximate duration of event 1hr 30min
Weekday Price: £70pp
Weekend Price: £75pp
To book please call the circuit office on 01795 410707
---
Option 3
⭐Most popular option for groups⭐
10 minute practice
15 minute qualifying
15 minute race
approximate duration of event 1hr 45mins
Weekday Price: £80pp
Weekend Price: £85pp
Limited weekend dates available to book online now or call the circuit office on 01795 410707 to discuss further.
---
Option 4
5 minute practice
15 minute qualifying
20 minute race
approximate duration of event 1hr 45mins
Weekday Price: £80pp
Weekend Price: £85pp
To book please call the circuit office on 01795 410707
---
Option 5
10 minute practice/qualifying
30 minute race
approximate duration of event 1hr 45mins
Weekday Price: £80pp
Weekend Price: £85pp
To book please call the circuit office on 01795 410707