What do I need to do if I am considering planning an event for adults at Bayford Meadows?
*For adult exclusive events a minimum of 6 drivers are required.*
1. Firstly, you need to decide a preferred date and approximate time. (We operate Wednesday through to Sunday, daytime and evening).
2. Make sure you know how many drivers are planning on coming and what their budgets are.
3. You have to also take into account the age of the drivers as we have two adult Kart types available but age restrictions apply:
-Pro 200 Karts (minimum age 16 years) For grids of 6 – 12 Drivers.
-SuperPro 270 Karts (minimum age 18 years) For grids of 6 – 12 Drivers.
Please be aware that the two types of Kart cannot be mixed on the circuit. Therefore, if a group of 18 year olds had one 16/17 year old wanting to join them, this could only happen if the whole group changed to the Pro 200 Karts, Standard Adult Kart.
4. Make a choice on a preferred type of event – considering your budget and group numbers. You can find all the information you need here about event choices i.e. Grand Prix and Endurance Options.
5. Consider the need for deposits. £20 per person is required to secure a time and date. Payment can be made over the phone or in person during office hours.
6. Once you have achieved all of the stages above, call our office on 01795 410707 to make your booking!
What is your minimum age for Hire-Karting?
Hire Karting is for ages from 9 years upwards here at Bayford Meadows.
What time of the year are you open?
We open all year round, in any weather! (Except if the circuit is Snow covered!) We are open Wednesday through to Sunday daytime and evenings. We are floodlit and so events can continue to be held in the evening through the winter months.
What happens if the weather is bad?
We try to run our karting in all weather conditions, obviously in some situations of extreme weather such as Snow and Ice, events may need to be rescheduled to a later date but we will always aim to give you as much notice as possible of this.
Do I need to have a driving license?
You do not need to hold a driving license to drive our Hire Karts although age restrictions apply for the various karts available and we may ask for proof of age if appropriate. If you are under the age of 18, you will need a parent or guardian to countersign your indemnity form before karting.
Do you need to book?
Yes it is vital that you book before coming down to the circuit for any event. We ask you to book in advance but also take last minute bookings, subject to availability of course. At the time of the booking we ask for a £20 per person deposit, with the remainder not due until arrival for your event.
Can I book online?
We do have an online booking system for hire karting which allows you to book onto an existing hire practice or open races for adults and hire practice and Junior Club events for our Younger Drivers. However, if you do not see the time or date you are looking for then do not hesitate to call the office or email us to see if there is any other availability, not everything is shown on our online booking system.
What is your policy on driver height and weight?
We recommend the following for your comfort and safety.
Juniors: Height Range 4ft5in (127cm) to 5ft6in (168cm)
Adult Pro 200 Kart (16yr+): Height Range 5ft (153cm) to 6ft3in (190cm) Weight Range min 7st, max 16st.
Adult SuperPro 270 Kart (18yr+): Height Range 5ft4in (163cm) to 6ft3in (190cm)
Maximum waist size for both of the adult karts is 50in (125cm)
If in doubt please do not hesitate to contact us by email here or calling the office on 01795 410707. If you live locally it may be worth coming in and trying one of the karts so you know you will be comfortable on the day.
What should I be wearing?
Depending on the time of year, you should wear comfortable and practical clothing. We also recommend that you bring a change of clothes to travel home in just in case the rain decides to make an appearance. If it is particularly cold, thermal/waterproof gloves are recommended. Plus other items of thermal clothing. Please take into account the weather and that your feet may get wet! No scarfs or hooded tops are allowed. Open toe shoes and high heels are not suitable, only flat shoes and trainers are permitted.
We provide every hire-kart driver with a helmet, gloves and a race suit. If the rain decides to make an appearance, we can also provide wet suits.
What time should I arrive prior to my event time?
We ask that you arrive 30/45 minutes prior to the start of your event. This is so that we can fully brief the drivers and get them suited up ready for the circuit on time. You will need to attend a safety briefing every time you kart with us. It is vital you adhere to the arrival time on your booking confirmation to allow for the smooth running of your event. If the safety briefing is missed you will not be able to kart!
Is there anywhere to get a bite to eat?
Our onsite Diner offers a wide variety of hot/cold food and drink options for your refreshment. We aim to have the Diner open when an event is happening. We can also give larger exclusive group events the option to open a tab for your event or pre-order from a selection at an agreed price.
Do you have a bar?
We have a licensed bar in the Diner for after the karting! Alcohol must not be consumed prior to or during an event. Please respect this requirement for your own safety and that of our staff.
Do spectators receive free entry?
Yes, family and friends are welcome to come and spectate on any of our hire-kart events. The only time spectators are charged is on Owner Driver MSA race weekends which does not involve hire karting, a small fee at the entrance of the circuit grounds is taken.
Do you sell gift vouchers?
Indeed we do! You can buy a gift voucher for any amount or for a specific event that we offer. These can be purchased online here, over the counter or by calling the office on 01795 410707 Wednesday to Sunday. Our gift vouchers have a 2 year expiry date from the date it was purchased.
What does the term Family Leisure Karting Day mean at Bayford Meadows?
We reserve Thursdays during standard school holiday periods from 9am – 4pm as a Special ' Family Leisure Karting days' for children and adults alike to enjoy karting on our divided main international circuit. All ages, from 9+ years are welcome throughout the day, whether as individuals or groups of friends and family, with the same great prices for all. Booking is required on these days.
What happens on our scheduled Family Leisure Karting Days?
We reserve THURSDAYS DURING STANDARD SCHOOL HOLIDAY PERIODS from 9am – 4pm as a Special 'Family Leisure Karting Day' for children and adults alike to enjoy karting on our divided main international circuit. All ages, from 9+ years are welcome throughout the day, whether as individuals or groups of friends and family, with the same great prices for all. Set dates and times available can be found on our Junior online booking page.
1. Upon arrival head straight to Race Control to register.
2. From there you will be issued with appropriate Race Wear and receive a short safety briefing and some basic tuition in our comfortable Briefing Centre.
3. You are now ready for your Karting Experience and will be directed to the circuit for your Karting Session(s).
4. Once complete, please return your Race Wear to the Briefing Centre and perhaps enjoy some refreshments in our On-Site Diner, or watch others from the Patio.
FYI: £45 per person for 30 minute driving session.
(Junior Leisure and Standard Adult Pro 200 Karts)
Are all karting events fully supervised?
All karting events are supervised by our trained staff for the entirety of the event.
Which circuit will I be driving on?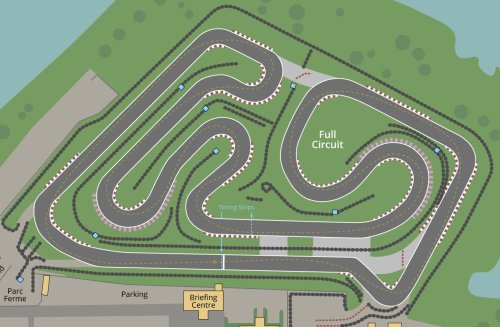 For all Adult Hire Practice and Exclusive Adult Events, you will be driving on our full 1100m international circuit shown in grey.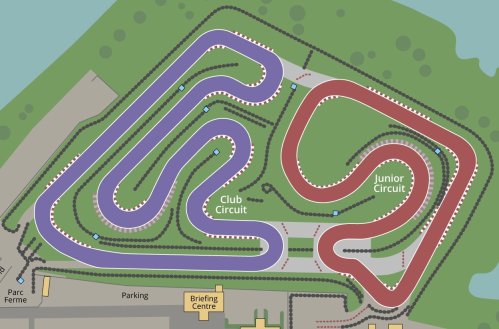 For all Junior Events booked on a proportion of the main circuit you will be driving on either the blue or red sections shown in the figure. On family Arrive 'n' Drive Thursdays the circuit is also divided in this way.
The smaller leisure circuit, as shown in yellow, is also available in the summer for our junior only Arrive 'n' Drive Saturdays.
Will I be driving with other people?
The answer to this question depends on what you have booked. If you have booked an exclusive event such as a Sprint 15/15 then it will only be your group driving on the circuit at one time. If you have booked a 30 minute adult hire-session then the likelihood is that you will be on the circuit with other people who have booked a similar session.
Can I film my driving?
The only way you are able to film your driving is by using a Go Pro.
Our Karts are fitted with Go Pro mounts which can be used by any Karter who possesses a Go Pro device.
Should you wish to take advantage of this, please ensure your camera is fitted properly as we accept no liability for loss or damage
Can I have longer than 30 minute driving session?
Yes, in certain adult events, but please note we recommend for the average person (adult or child) 30 minutes driving time is actually more than adequate to enjoy the experience. It can be tiring for some.
Do you do party invitations?
We do yes. If you are holding a children's party and would like a Bayford Meadows party invitation please click here to download a copy.
If you are just doing the karting and would like a karting experience invitation please click her to download a copy.
Our invitations contains all the information required and includes our address with a map to help you get to us easily.
I still need information!
Don't panic! If you need to know something else which isn't listed here, either email us by clicking here or calling the office on 01795 410707.