Bayford Meadows Graduate Programme
Drivers who are aged 14 - 18 years are invited to attend the BM Junior Graduates programme, using the SuperPro 270 karts. This stepping stone allows drivers to enhance their racing skills further in a fun and friendly environment and take part in the Graduate monthly championship.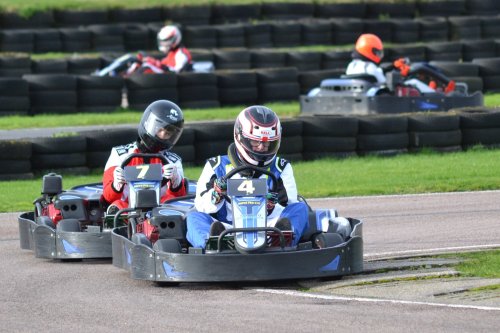 Practice
BM organises a monthly practice session for graduate drivers. During these sessions drivers get 3 x 10 minute runs. Bayford's dedicated driver coaches are always on hand to give graduates advice and instructions and help them improve their performance. In addition to this, we use Alpha Timing System, enabling drivers to recieve detailed printouts of all their laptimes.
270 Coaching session dates
£65pp
Sunday 26th November 2:45pm arrival
Saturday 30th December 11:15am arrival
Sunday 21st January 2:45pm arrival
Sunday 25th February 2:45pm arrival
Sunday 24th March 2:45pm arrival
Wednesday 17th April 7pm arrival
Sunday 28th April 2:45pm arrival
Wednesday 15th May 7pm arrival
Sunday 26th May 2:45pm arrival
Wednesday 12th June 7pm arrival
Sunday 23rd June 2:45pm arrival
Wednesday 17th July 7pm arrival
Sunday 28th July 2:45pm arrival
Wednesday 14th August 7pm arrival
Sunday 25th August 2:45pm arrival
Wednesday 11th September 7pm arrival
Sunday 22nd September 2:45pm arrival
Sunday 13th October 2:45pm arrival
Wednesday 16th October 7pm arrival
Sunday 24th November 2:45pm arrival
Sunday 29th December 2:45pm arrival
All Coaching sessions are provided with advice, guidance and debriefing.
---
Race
A monthly 'Graduate Race' enables drivers to test their improving skills. They take part in a 3 x 10 minute races with 3 lap practice/ qualifying before each race. Trophies are awarded to the top drivers and drivers earn points towards an overall 'Graduates Championship' that runs throughout the year. As always, our goal is not simply for drivers to have a competitive race but for them to improve their race craft. Our experienced driver coaches are therefore always on hand to give driving advice to all competitors.
Graduates Winter Cup 2023/24
2pm arrival
Race Entry:£75pp
Saturday 2nd December
Saturday 6th January
Saturday 3rd February
Saturday 2nd March
4 rounds, all round to count toward championship total
Trophies will be awarded for each round
All races live streamed
Graduates Summer Cup 2024
2pm arrival
Race entry: £75pp
Round 1: Saturday 6th April
Round 2: Saturday 4th May
Round 3: Saturday 1st June
Round 4: Saturday 6th July
Round 5: Saturday 3rd August
Round 6: Saturday 7th September
Round 7: Saturday 5th October
Round 8: Saturday 2nd November
Booking close's the day before at 12pm.
8 rounds - Points are awarded at each round
7 out of 8 rounds to count towards championship total
One off entries welcome
Trophies will be awarded for each round
All races live streamed
Race results and Championship standings can be found at https://results.alphatiming.co.uk/bayford/